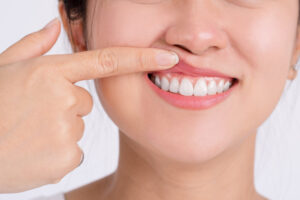 Our team provides treatment for an array of periodontal concerns, addressing minor and severe cases using advanced technology. Not only does this allow us to manage the disease, but we can do so comfortably! In today's blog, your Encinitas/San Diego, CA, periodontist talks about how we address these concerns with dental lasers.
Signs You Need Periodontal Treatment
How do you know if you need periodontal treatment? Your general dentist may refer you to us, or you could schedule an appointment when you begin to exhibit potential warning signs. These could include soreness in your gums, or redness and bleeding. Receding tissues, which make your teeth appear longer and expose vulnerable root structure, could also develop. While periodontal disease cannot be cured, it can be managed with treatment, so you avoid major complications like tooth loss.
The Comfort the Technology Provides
At one time, scalpels and sutures were necessary to remove diseased tissues from the smile as part of the management process. Fortunately, our team has been offering the laser alternative for years! With dental lasers, we don't use scalpels at all and have no need for sutures. Instead, the technology is employed to trim away diseased tissues so healthy gums can reattach to the teeth, allowing the issue to be managed moving forward with a preventive approach, such as traditional cleanings every three to four months. The system rarely requires any anesthesia and since there are no sutures, the area heals much quicker too. In fact, following surgery many people return to their normal routine after one a day or two of rest!
Other Benefits for Your Gums
Now that we've explained what makes the use of dental lasers so comfortable for our patients, let's talk about the other benefits offered. For example, did you know that the technology also limits the risk of bleeding, infection, and swelling afterward? This is one major reason for the fast-healing process! The technology is also quiet and treats areas with precision to prevent damage to surrounding healthy tissues. You also receive care in only one visit!
If you have any questions about how we diagnose and treat concerns like periodontal disease using advanced dental lasers, or if you're ready to schedule a visit with our team for a consultation, then reach out to us today. We want to help you maintain a full and beautiful smile, one that is healthy and strong too!
Speak With Your Encinitas/San Diego, CA Periodontist About Treating Disease
Our team wants to help you enjoy good oral health and a whole smile. If you would like to find out more about how we offer comfortable treatment with advanced technology, please call Dr. Kania's laser periodontal office in Encinitas/San Diego, CA, at (760) 642-0711.