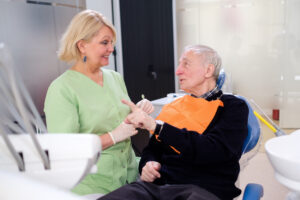 If you respond to the warning signs of gingivitis in a timely manner, your condition can be reversed, and you can avoid potentially serious oral health complications. When an infection is not managed properly, more involved care can become necessary. What happens if it is not provided? As your condition worsens, you can face potential problems like tooth loss, and you can find it more difficult to manage other health conditions. At our Encinitas/San Diego, CA periodontal practice, we can offer treatment for patients who need help with periodontal disease. Because our treatment options include services that use laser tools, we can make advanced care easier, and we can even provide shorter and easier recovery times.
Should You Meet With A Periodontist To Discuss Gum Disease?
If gum disease is not addressed properly, it can become a more serious issue, one that can require the attention and care of a specialist. Our periodontal practice can provide help for people with different degrees of poor health. That can sometimes mean preventive care, but it can also mean more involved treatment to address tissue damage and bacteria buildup. Based on your diagnostic review, we can assess how we can help you. When you need more involved services, we can use laser tools to make them more conservative, leading to better experiences during and after your treatment.
How Laser Technology Improves The Patient Experience
With the use of laser technology, we can make periodontal care easier for you. Advanced periodontal disease can be controlled with a treatment that removes harmful microbes from your teeth roots as well as infected tissues. This allows you to regrow healthy gums, and it can protect you against the kind of permanent damage that leads to tooth loss. Lasers more carefully target the site of an infection, so healthy tissues are preserved. Because they minimize tissue damage and bleeding, you can have an easier time with recovery.
Discussing Treatment To Restore Your Jawbone Or Gum Line
Restoring a recessed gum line or a deteriorated jaw can have important benefits. Jawbone grafting services may be necessary as part of a plan to restore your incomplete smile through dental implant placement. For those who have issues with a receding gum line, we can use lasers to make the right improvements without the need for suturing.
Talk To Dr. Kania About Beginning Periodontal Treatment
By undergoing advanced periodontal treatment with laser technology, you can take on serious threats to your appearance and well-being with a more conservative and comfortable procedure. Our practice is ready to help you take on potentially serious issues while making your comfort and patient experience a priority. If you would like to learn more, call Dr. Kania's laser periodontal office in Encinitas/San Diego, CA, at (760) 642-0711.