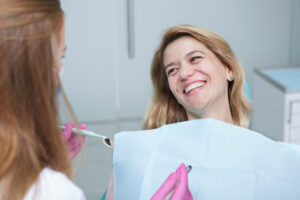 When you need help managing your periodontal health, you can find that specialized care can protect you against potentially serious problems. Someone who does not take their gum health seriously can experience worsening trouble with tissue damage that results in tooth loss, and they can experience complications with their general health as bacteria multiply and start to move through your bloodstream. Our Encinitas/San Diego, CA periodontal practice is prepared to help you if you have a more severe case of gum disease to control. With our laser tools, we can tend to bacteria as well as infected tissues to aid in your recovery!
Are You In Need Of Treatment For Periodontal Disease?
Gingivitis is a condition that should be taken seriously. Fortunately, when you do make treatment for this problem a priority, you can tend to it while it is still reversible. Many people who undergo the appropriate care can reverse their condition and regain their fully healthy gums. Unfortunately, many others will experience worsening problems with their gum tissues, which can result in the more advanced threat of periodontal disease. At this point, the support of a specialist can be needed to prevent serious trouble. That trouble can include tooth loss due to the destruction of tissues, and it can also include complications that make your general health more difficult to manage.
How Lasers Improve The Patient Experience
Why should you be concerned with what tools your periodontist uses to take care of your gums? When you have access to laser treatments, you gain access to care that is more precise, which means your healthy tissues are preserved. You also gain a shorter and easier recovery period. With both the REPAIR WaterLase laser and our LANAP laser, Dr. Kania can tend to areas where an infection is hurting your well-being and remove both bacteria from the roots of teeth and infected tissues. This can encourage the regrowth of healthy tissues and prevent the spread of harmful microbes from doing more damage to your health.
What Else Can Laser Technology Do For Someone With Gum Disease?
To fully support patients with advanced gum disease, we can provide grafting treatments that address existing harm to your periodontal tissues as well as to your jawbone. Jaw grafting procedures can be important before you undergo dental implant placement, as the loss of tissue density can complicate your ability to fully restore your incomplete smile. Through gum grafting, we can address cosmetic and oral health issues created by the recession of tissues.
Talk To Your Encinitas/San Diego, CA Periodontist About Treatment For Unhealthy Gum Tissues
Through the right approach to treating advanced gum disease, our practice can help you maintain your smile and health more easily! To find out more about how lasers fit into treatment, call Dr. Kania's laser periodontal office in Encinitas/San Diego, CA, at (760) 642-0711.