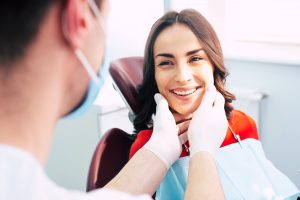 People sometimes fail to recognize just how serious gum disease can become, which can lead to serious complications that impact their smile as well as their overall health. At our Encinitas/San Diego, CA periodontal practice, you can find that solutions are available when you face more severe threats from an infection. If necessary, Dr. Kania can recommend services that rely on laser tools to remove harmful bacteria present on the roots of your teeth. Clearing these microbes away, and removing unhealthy periodontal tissues, can lead to welcome improvements in your well-being as well as your appearance! Lasers also help us take on issues by performing more conservative and comfortable grafting treatments.
Your Issues With Your Periodontal Health May Be More Serious Than You Realize
If you let problems with gum disease form and worsen, they can have an alarming impact on your overall health as well as your smile. The damage done by these microbes can weaken the support for your teeth, something that will lead to difficulties with tooth loss over time. You also need to worry about the negative health consequences from bacteria moving through your bloodstream to affect other parts of your body. With a diagnostic review of your gums, we can help you understand just how serious your issue is, and we can discuss your different options for care!
Making Plans To Fight Advanced Gum Disease With Lasers
Through the use of our different laser tools, we have the technology required to make the treatment of advanced periodontal disease more comfortable for our patients. Lasers offer more accurate care, which means you preserve more of your healthy surrounding tissues. In addition to making more careful incisions, these tools limit bleeding and remove the need for suturing as they clear away bacteria on your roots and diseased gum tissues. Because this approach to treatment is more conservative and preserves more of your gums, you can have a shorter and easier recovery!
Lasers Also Help During Grafting Procedures
Laser technology also benefits those who come in for grafting procedures. We offer both gum and jawbone grafting treatments that play important roles in recovery from infections. Laser jawbone grafting can occur before you have dental implants put in place. Through the Pinhole Surgical Technique, we can manipulate your gums without the need for suturing, which means we can make the restoration of your appearance and health easier!
Talk To Your Encinitas/San Diego, CA Periodontist About Gum Disease Treatment With Laser Technology
If you are someone who requires treatment for advanced gum disease, you should know that our practice is here to help by offering services that rely on laser technology to make your time in the dentist's chair easier! To find out more about how we can take care of you, call Dr. Kania's laser periodontal office in Encinitas/San Diego, CA, at (760) 642-0711.