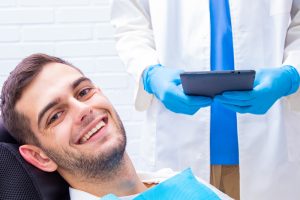 When you are affected by periodontal disease, it is important that you take the management of the condition seriously. Without the appropriate support, bacteria can destroy the tissues that support teeth, and they can move through your bloodstream to create new problems in other parts of your body. At our Encinitas/San Diego, CA periodontal practice, we can recommend different treatments that address more advanced cases of gum disease. Through the use of lasers, we can make these treatments more conservative, and we can make your recovery time shorter and easier!

The Right Approach To Care Can Benefit You In Several Ways
Taking problems with unhealthy gums seriously will help you lower your risk for tooth loss and other difficulties. With our digital imaging technology, we can do a thorough diagnostic review to see what kind of help you need to manage your infection. After we gather this information, we can work out solutions to fight harmful bacteria and encourage healthy tissue growth.
Discussing Laser Treatment To Manage Periodontal Disease
Through the use of laser technology, we can do work to remove bacteria and diseased gums in order to help you recover from periodontal disease. We use both the LANAP laser and REPAIR WaterLase laser to provide care to our patients. In using these tools, we can provide services with more precision and protect healthy surrounding tissues. With lasers, we can minimize bleeding as well, and we can remove the need for suturing. Because your gums are better protected with this technology, you can heal in less time, and you can benefit from an easier recovery period.
Using Lasers In Grafting Treatments
Treatments to restore your gum line and jawbone tissues can be important parts of your recovery. Jawbone grafting is a procedure that is sometimes necessary before dental implant placement can occur. If Dr. Kania finds that poor bone density affects your candidacy for prosthetic treatment, we can schedule you to undergo this service. Lasers make the treatment more conservative and comfortable, and encourage shorter and easier healing. A gum grafting treatment can help you restore your appearance if periodontal disease has hurt the way you look. Our approach relies on the Pinhole Surgical Method to make the process more conservative. Rather than rely on a treatment approach that requires suturing, we use pin-sized holes to manipulate tissues and bring them to their proper positions.
Plan Your Laser Periodontal Treatment With Dr. Kania!
Because we provide periodontal treatments with laser tools, we can make your experience during and after care easier! Our Encinitas/San Diego, CA practice offers services with more than one form of laser technology, so we can personalize your support and help you see exciting benefits from care. To find out more about our practice and services, call Dr. Kania's laser periodontal office in Encinitas/San Diego, CA, at (760) 642-0711.