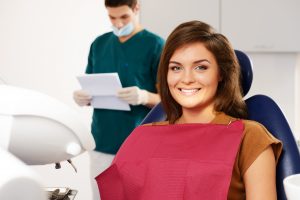 Periodontal disease affects many people, and in doing so it puts them at risk for complications like tooth loss and problems with their general health. While this issue may be one that everyone should watch out for, patients who require treatment should have their needs addressed as individuals. At our Encinitas/San Diego, CA periodontal practice, we can work with you to make sure you have access to the right services and control your troubles with poor gum health. One way we personalize periodontal care is by providing laser treatment with more than one type of tool. We can determine if your treatment should proceed with our LANAP laser, or if we should move forward with care that relies on our REPAIR WaterLase laser.
Should You Look Into Laser Periodontal Services?
With laser tools, we can tend to the needs of those affected by periodontal disease. While gingivitis is something that can be treated to prevent further health troubles, periodontal disease can become more difficult to manage. If your condition has progressed to this stage, laser services can be recommended. With these tools, we can carefully work to remove bacteria as well as infected tissues, which starts a recovery process where you grow back healthy tissues as you heal.
Planning Treatment To Fight Gum Disease
As we plan your laser periodontal treatment, we will look into the right way to target an infection so that we can safely remove unhealthy tissues while preserving your healthy gums. With both our LANAP laser and our REPAIR WaterLase laser, we can provide care that focuses on comfort and precision. There will be no need for suturing after your treatment concludes, and we can minimize any bleeding that occurs. You can also find that your recovery from treatment is shorter and easier thanks to the more precise work of laser tools.
How Lasers Affect Grafting Treatment
Lasers help with more than just the treatment of an active periodontal infection. They also serve us well when we perform grafting procedures. We use these tools to perform gum grafting services, which help you recover after your tissues recede. We can also rely on them for laser jawbone grafting, a procedure that helps individuals qualify for prosthetic dental work with dental implants.
Talk To Your Encinitas/San Diego, CA Periodontist About Laser Services
Because we provide periodontal services with more than one laser as an option for treatment, we can build your care around meeting your needs as an individual. With the right approach, we can help you manage problems with periodontal disease, or we can make arrangements to perform grafting services that address problems like recession and jawbone deterioration. To find out more, or to discuss your treatment options, call Dr. Kania's laser periodontal office in Encinitas/San Diego, CA, at (760) 642-0711.