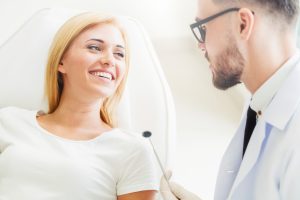 When periodontal disease is not managed properly, the condition can do alarming damage to the tissues and ligaments that support your teeth. A serious infection makes you vulnerable to tooth loss, and it can also put you at risk for other health conditions when bacteria travel to other areas. It may be necessary for you to have diseased gum tissues removed in order to encourage healthy recovery and growth. With advanced laser technology, our Encinitas/San Diego, CA periodontal practice can carefully tend to unhealthy areas and fight bacteria buildup, which can lead to important recovery.
The Importance Of Controlling Periodontal Disease
When an infection is caught in time, we can restore the health of your gums by cleaning bacteria. This process, known as scaling and root planing, is an important line of defense, one that can stop problems from growing worse and creating more difficulties for your well-being. Unfortunately, not everyone will seek treatment in time for this to be an effective response. For someone whose condition has worsened, we can provide more involved services. This includes the careful manipulation and even removal of diseased gums in order to fight the buildup of bacteria on the roots of your teeth. While many other practices still depend on manual tools to perform these services, we rely on laser technology to provide a more precise and comfortable experience for our patients!
Laser Tools Can Provide A Better Treatment Experience
When we perform periodontal services with laser technology, we can make treatments easier in several ways. The precision of lasers helps us minimize tissue damage, limit bleeding, and remove the need to use sutures to help with your healing. Because our practice relies on two different laser tools to perform treatments, we can provide a more personalized experience that relies on advanced technology. We can even rely on this advanced approach for procedures like jawbone grafting and gum grafting!
Recovery After Laser Treatment
Because lasers are able to minimize tissue damage and reduce bleeding, your time after treatment can be easier, and you can enjoy a shorter recovery period. This means you can see the benefits of a procedure sooner. A better and easier recovery also reduces your risk for infections or complications after treatment, further improving your experience after treatment for periodontal disease.
Talk To Your Encinitas/San Diego, CA Periodontist About Laser Treatment For Gum Disease
Problems with periodontal disease can become serious, and they should not be taken lightly. At our practice, patients can enjoy access to important services that rely on lasers to make their time during and after treatment easier. If you have concerns about the health of your gums, or if you are ready to discuss your treatment options, call Dr. Kania's laser periodontal office in Encinitas/San Diego, CA, at (760) 642-0711.