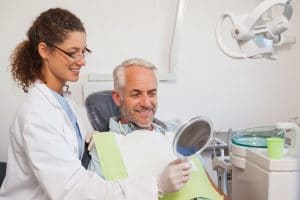 Taking proper precautions against infection is always important, but coronavirus concerns have made infection control especially pressing. Our Encinitas/San Diego, CA periodontal practice has always made our office a safe and sterile place to provide different services to control and prevent gum disease. With changes in both our office practices and equipment, we are able to continue making our environment safe for both team members and patients who come see us. Because of this, we are still able to help those who need our assistance to fight periodontal disease. You can schedule laser treatment to protect your gums from harmful microbes. In addition to dealing directly with periodontal infections, lasers can also be used to improve patients' experiences with grafting procedures.
Our Efforts To Keep Our Practice Safe For Patients And Team Members
Through a variety of changes in how we maintain our office and schedule services, we have been able to increase already rigorous safety measures to keep our office hygienic for everyone. Our waiting area has had items like magazines, toys, and more removed, and we are staying vigilant with disinfecting areas where patients gather. We also provide stations with sanitizer for patients to use when they arrive. With new equipment like our air purifiers, we are able to take care of harmful agents in the air, too! By taking these and other measures, we can keep seeing patients who require help to manage poor periodontal health.
Putting Off Periodontal Services Can Lead To Trouble
By delaying periodontal treatment, people with advanced infections leave themselves vulnerable to worrying complications. One major concern is tooth loss – when gum disease becomes serious, bacteria will destroy those tissues that hold teeth in place. Infections that affect your gums can also lead to more problems that impact your general health over time. Dr. Kania has multiple laser tools that are useful in both fighting bacteria directly and removing infected tissues so healthy replacement tissues can grow.
We Also Rely On Lasers For Grafting Procedures
Through the use of lasers, we can provide gum grafting treatments and jawbone grafting procedures that produce results faster while shortening healing periods. Both of these services help those who have suffered consequences from poor periodontal health. We can restore your gum line if it has receded, and we can strengthen your jawbone in order to make you a good candidate for dental implant placement.
Plan Your Laser Treatment At Our Encinitas/San Diego, CA Periodontal Practice
Our practice continues to provide a variety of services for patients who need to address poor periodontal health. To find out how we can help you fight the harmful effects of advanced gum disease, call Dr. Kania's laser periodontal office in Encinitas/San Diego, CA, at (760) 642-0711.