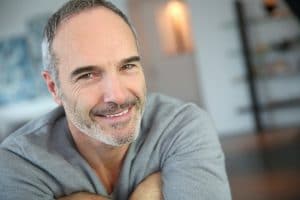 When it is not being treated, periodontal disease can have a devastating effect on your smile. The bacteria attacking your gums can cause the gradual destruction of the tissues that are giving your teeth necessary support. In time, that deterioration of these tissues can result in tooth loss! Your infection is also a concern because it can have negative effects on your general health. At our Encinitas/San Diego, CA periodontal practice, we offer a range of procedures that can help those who are impacted by periodontal disease. These services include treatments with laser technology to carefully clear away bacteria and damaged tissues. We actually use more than one type of laser at our location, which allows us to tailor a treatment to benefit individual patients!
We Can Find The Right Solution To Your Problems With Periodontal Disease
The severity of your periodontal disease, and the amount of damage already done to your gums as well as your jawbone, can impact how we approach caring for you. While gingivitis can be treated with a periodontal cleaning to remove the bacteria responsible for your problems, periodontal disease calls for a more involved approach. To fight these harmful microbes and encourage the growth of healthy tissues in infected areas, we can use lasers. In addition to LANAP, we provide care with REPAIR WaterLase lasers.
We Provide Treatments With LANAP And REPAIR Lasers
Having the ability to choose the right laser tool for you means we can offer a more personalized approach to treatment. Our goal when working to restore your periodontal health is to minimize changes to healthy tissues, encourage faster healing, and effectively target destructive bacteria. Both of these lasers allow us to do precise work, leading to smaller incisions than manual tools can make. Laser treatment also limits bleeding and removes the need for suturing, which can benefit you after your procedure.
Lasers Also Help With Grafting Procedures
Because we use lasers to manipulate soft tissues, we can actually make grafting procedures easier for our patients, too! Over time, problems with your infection may have caused noticeable gum line recession, or led to the loss of density in your jaw. If either of these problems affect you, we can arrange grafting procedures that benefit your smile and oral health! Jawbone grafting can be performed before dental implant placement to help you move forward with a smile restoration.
Find Out How Dr. Kania Can Help You Address Your Periodontal Problems
Dr. Kania's periodontal practice relies on more than one type of laser to provide patients with remarkable care. Our options in laser treatment make it easier for us to deliver the kind of care that truly benefits you. To learn more, call our laser periodontal office in Encinitas/San Diego, CA, at (760) 642-0711.