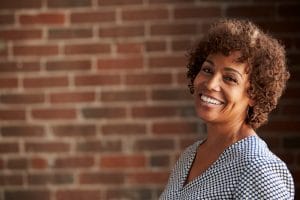 If problems with your periodontal health are identified in time, it may be possible to protect your smile through a periodontal cleaning. This procedure removes bacteria that are causing problems with gingivitis before periodontal disease can form. In this scenario, your infection can be reversed before you have to worry about potentially serious consequences with tooth loss, or issues with your general health. Unfortunately, many patients will not receive treatment in time for a cleaning to be sufficient. If you are someone who already has problems with periodontal disease, a more involved procedure can be necessary to help you. Our Encinitas/San Diego, CA periodontal practice can make periodontal treatment easier for you because we are able to use lasers in procedures that directly affect your gums. The careful removal of diseased and damaged gums can encourage the growth of healthy tissues while minimizing damage to healthy areas. This approach can also lead to shorter recovery periods than treatments with manual tools!
The Severity Of Your Periodontal Disease Can Affect How You Are Treated
It is important to ascertain how serious a person's periodontal troubles are before committing to treatment. If periodontal disease has already started to cause permanent tissue damage, the right treatment option can involve the careful removal of infection tissues. If left unchecked, an infection can eventually destroy enough tissues supporting teeth to cause losses. Bacteria attacking your gums can also lead to health complications when these microbes are able move to different parts of your body.
Arranging The Careful Removal Of Diseased Tissues
We use LANAP and REPAIR periodontal laser treatments when helping patients deal with advanced periodontal infection. Having different options for your treatment can help us make the work you undergo as precise as possible. That precision helps you by protecting those portions of your gums that are still healthy, and by limiting bleeding. While manual periodontal procedures can require sutures, work with lasers can make suturing unnecessary.
Lasers Can Also Improve Your Experience With Grafting Procedures
In addition to using lasers for directly dealing with diseased gums, our practice can rely on lasers when manipulating tissues as part of a grafting procedure. This means that we can make your experience with jawbone grafting and gum grafting easier, and shortening recovery times. The restoration of gum tissues and bone tissues can be valuable to your recovery from poor periodontal health, and it can be necessary before arranging dental implant placement to address tooth loss.
Find Out How Dr. Kania Can Use Lasers To Improve Your Periodontal Treatment
.At our Encinitas/San Diego, CA periodontal practice, Dr. Kania can use laser treatments to help patients deal with potentially severe periodontal problems. To learn more about the benefits of access to laser treatment, call Dr. Kania's practice at (760) 642-0711.