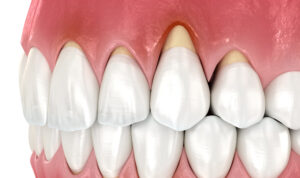 When you have a more advanced stage of periodontal disease, then your gum tissues could begin to recede from your smile. However, our team can offer care to not only manage the disease, but also treat your receding tissues! In today's blog, your Encinitas/San Diego, CA, periodontist talks about the Pinhole Surgical Technique (PST).
The Factors Behind Gum Recession
When we have periodontal disease, then the gums could eventually begin to pull away from the teeth, receding and forming deep pockets along the gum line. This could lead to periodontitis, and increases the risk of eventual tooth loss. The recession also exposes sensitive portions of tooth structure, which could mean a greater risk of tooth decay and dental infection. To help protect your gum health and avoid recession, be sure you brush twice a day and floss every evening, cut back on sugar and starch, and consume plenty of foods with vitamin C. A regular dental cleaning every six months is important too! However, if you already have sore, red, and bleeding gums that show signs of recession, then contact our team right away.
Laser Dentistry
The Pinhole Surgical Technique (PST) can provide a conservative means of treating recession and improving both the health and appearance of your smile. We start the process with laser dentistry, which we can use to reshape the gums and other structures as part of your treatment. The laser can target areas of the smile with precision, preventing damage to healthy parts of your smile. We don't need scalpels or sutures, and the treated area heals quickly, so you can move on with your normal routine. The use of this technology also reduces the risk of bleeding, swelling, and function too.
Pinhole Surgical Technique
Once we use lasts to prepare the area, we will make a tiny pinhole in the gums, and then add a special collagen material. We then manipulate the collagen to cover the exposed portions of your teeth with gum tissues, which reverses recession. Moving forward, we could recommend traditional cleanings every three to four months, or an alternative known as Supportive Periodontal Maintenance, which helps control the disease and protect the appearance and function of your smile. If you have warning signs of gum disease, or have noticed your teeth appearing long or uneven, then please reach out to our team today to learn more. We want to help you maintain a whole and healthy smile for years to come.
Do You Have Gum Recession?
We would like to help correct your receding tissues and protect your smiles from complications. If you would like to find out more about improving your smile's health and beauty, please call Dr. Kania's laser periodontal office in Encinitas/San Diego, CA, at (760) 642-0711.