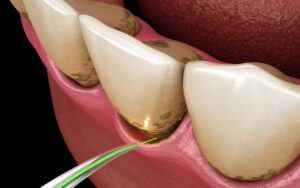 When you have periodontal disease, then the health, stability, and even the appearance of your smile could suffer. However, we could offer advanced treatment to manage the side and keep your smile whole. In today's blog, your Encinitas/San Diego, CA, periodontist talks about REPAIR with Waterlase, which can offer treatment with precision in a single visit.
The Warning Signs of Periodontal Disease
How do you know if you need to seek treatment for periodontal disease? We urge people to contact our team for a consultation when they notice changes to their gum tissues, such as redness, soreness, bleeding, and swelling or recession. Our team will conduct a detailed examination with advanced imagery to make a precise diagnosis. Our team then creates a treatment plan to address your gingivitis or gum disease, so you can avoid the later stages linked to adult tooth loss. For some, we could use dental lasers to address your periodontal concerns.
REPAIR with Waterlase
With the REPAIR system, our team will use dental lasers to gently trim away and remove the diseased tissues, so healthy ones can reattach to your teeth. This makes the disease manageable with preventive treatments moving forward, such as Supportive Periodontal Maintenance, Ozone Therapy, and other preventive options. The system also uses a steady stream of gently flossing water to ensure the process is comfortable. The lasers can target the area with precision and prevent damage to healthy tissues. Since we don't use scalpels and sutures, the area heals much quicker, with some people returning to normal activities after only a day. There is also little risk of bleeding, infection, and swelling, and the procedure rarely requires anesthesia either. The laser technology also destroys harmful bacteria to prevent flare ups and safeguard your smile's beauty and stability.
Managing Your Disease
Afterward, we will discuss better at-home hygiene habits, such as brushing and flossing, avoiding tobacco products, and eating a healthier diet. We can also recommend cleanings or Supportive Periodontal Maintenance every three to four months moving forward to keep your smile healthy and strong. If you have any questions about jhow we improve your oral health with the REPAIR with WaterLase system, or if you have symptoms of the disease that need attention, then contact our team today to get started. Everyone deserves a healthy and whole smile, one that makes them feel confident too.
Schedule An Appointment Today
We would like to help obtain a gentle and effective solution for your sore and bleeding gums. If you would like to find out more about our advanced treatment options, please call Dr. Kania's laser periodontal office in Encinitas/San Diego, CA, at (760) 642-0711. Don't live with periodontal disease and painful symptoms, enjoy relief with treatment from our team using advanced technology!