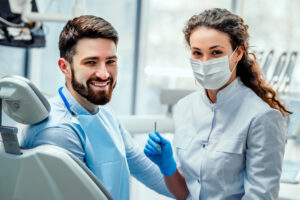 The accumulation of bacteria on the roots of your teeth can create real problems for your periodontal health. At first, the infiltration of harmful microbes leads to problems with gingivitis, a reversible infection that can be dealt with before complications begin to occur. However, as the bacteria spread, the infection becomes more advanced, and that can make more involved care necessary. At our Encinitas/San Diego, CA periodontal practice, we can bring you in for advanced treatments that fight periodontal disease. When appropriate, we can recommend treatment with laser tools that are specially designed to deliver precise care that can remove bacteria and unhealthy tissues that have affected your quality of life.
What Can You Do To Combat Periodontal Disease?
The threat of periodontal disease is not one that you should take lightly, as it can have a significant effect on your health and smile. The damage done by bacteria can lead to tooth loss for many who struggle with this condition. The microbes responsible for your infection can also move to other parts of your body and create new health concerns.
The state of your infection can affect how treatment is approached. Our practice can offer different preventive services to help with gum disease. However, when the condition is more advanced, other approaches can be needed. Because we provide care with laser technology, we can help you resolve problems with a more serious infection with a procedure that is less invasive and provides an easier recovery experience.
Using Laser Technology To Carefully Remove Bacteria And Infected Tissues
Laser periodontal services offer several benefits when it comes to treating periodontal disease. These tools provide a more precise kind of care, which means healthy surrounding tissues are more effectively preserved. These tools allow us to carefully access areas where bacteria have gathered so that these microbes can be cleared away, and so that unhealthy tissues can be removed. That removal encourages healthy growth of your gums. Because the work is more precise and limits bleeding, you can have an easier and shorter recovery, and you can enjoy treatment without suturing.
In Need Of Grafting Treatment? Lasers Can Help With This, Too!
Laser technology also helps us provide better patient experiences during gum grafting and jawbone grafting procedures. Both of these treatments can play important roles in helping patients recover from poor gum health. Because an infection can cause issues with gum line recession, our pinhole gum grafting procedure provides a less invasive means of addressing this issue. We can also provide jawbone grafting services to help patients who require help to qualify for dental implant placement, an valuable step in the restoration of your incomplete smile.
Talk To Your Encinitas/San Diego, CA Periodontist About Treatment For Periodontal Disease
Through the use of the right tools and treatments, we can help people in and around our community enjoy a welcome recovery from poor periodontal health! If you want to find out more, call Dr. Kania's laser periodontal office in Encinitas/San Diego, CA, at (760) 642-0711.