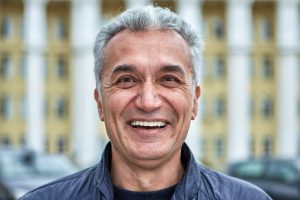 Dental implants give people who have lost teeth more than just a means of keeping a dental prosthetic in place throughout the day. When an implant holds your restoration in place, it provides more stability for neighboring teeth, and it creates stimulation in your jawbone that helps to preserve its health and strength through the years. Jawbone deterioration is a real concern after tooth loss – unfortunately, it can also complicate plans to place dental implants! Our Encinitas/San Diego, CA periodontal practice can address this problem if it is preventing you from moving forward with prosthetic treatment. Because we use laser tools when performing jawbone grafting procedures, we can minimize bleeding and damage to tissues, provide more precise care, and even make your recovery easier!
Why Some Patients Require Jawbone Grafting Treatment Before Receiving A Dental Implant
If you wait to address tooth loss, or if you rely on a prosthetic that is not implant-supported for a period of time, you can experience jawbone deterioration. Why does this loss of mass occur? The roots of our teeth stimulate the surrounding bone tissues when we bite and chew. That stimulation tells our bodies to deliver nutrients to this area to support your jaw and oral health. Losing teeth means losing the roots that are relied on to support the health and condition of the bone; fortunately, implants can create that stimulation and stop deterioration!
We Use Lasers To Improve The Jawbone Grafting Treatment Experience
Before recommending jawbone grafting treatment, we will carefully examine the area and see if it is necessary, or if you can move forward with implant placement without it. Just as we use laser tools to fight active problems with periodontal disease, we can use lasers when we perform jawbone grafting procedures. The technology in our office allows us to modify softer and harder tissues with lasers, so we can make a procedure less invasive. Lasers can modify tissues with more precision than manual tools, and they can make recovery after treatment easier!
Other Services That Benefit From The Use Of Laser Technology
We can use lasers to perform minimally invasive gum grafting treatments that require less work on your periodontal tissues. By relying on the Pinhole Surgical Technique, we can make this process more comfortable, remove the need for sutures at the end of treatment, and shorten your recovery time! Lasers also improve patient experiences when we need to address active trouble with periodontal disease. For patients who want to address tooth loss caused by poor gum health, treatment for an active infection can be necessary before moving forward with plants to place dental implants.
Dr. Kania Can Provide Laser Jawbone Grafting Services!
Our periodontal practice relies on laser technology to make services like jawbone grafting more comfortable for our patients! If you wish to learn more about this procedure, or any other treatment that can benefit you, call Dr. Kania's laser periodontal office in Encinitas/San Diego, CA, at (760) 642-0711.