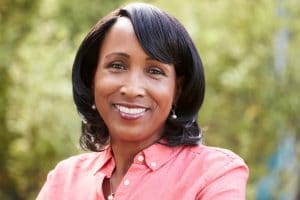 The time a person spends NOT having issues with periodontal disease addressed can have lasting consequences. An infection that attacks your gums can lead to the destruction of tissues that support your teeth. This damage, along with the loss of teeth roots that stimulate your jawbone, can lead to bone deterioration that has cosmetic and oral health consequences. Too much deterioration can actually affect your ability to move forward with prosthetic dental work. Fortunately, a jawbone grafting procedure can restore density and strength. At our Encinitas/San Diego, CA periodontal practice, we can restore the condition of your jaw through a grafting procedure that relies on laser technology.
An Untreated Infection Can Lead To Tooth Loss And Tissue Damage
Tooth loss and tissue damage can lead to problems with the density and strength of your jawbone. People who experience trouble with jawbone resorption can take on an unwelcome "sunken" look that ages them, and they can find that they are not able to move forward with plans to have dental implants placed and restored. Through jawbone grafting, we can restore the bone and give you the ability to move forward with your smile recovery. At our practice, we rely on lasers to manipulate gum tissues as well as harder bone tissues. This leads to more precise work, and it can shorten the time needed for recovery.
We Use Lasers To Improve Patients' Experiences With Jawbone Grafting
When lasers are used for periodontal treatments, it becomes possible to make smaller, more precise cuts. This has obvious benefits for you after your procedure is done, as you have less to heal from. In addition to offering more precision, these tools limit bleeding that can occur during a procedure, and can even remove the need to suture gum tissues at the end of treatment.
Lasers Can Also Be Used To Fight Active Problems With Periodontal Disease
Lasers also allow us to deal directly with active periodontal disease. Through a laser-based periodontal treatment, we can remove bacteria and infected tissues in order to encourage your recovery from infection. These services can help us stop the gradual destruction of tissues, making it easier to preserve your full smile.
Dr. Kania Can Use Lasers To Improve Your Experience With Jawbone Restoration
At Dr. Kania's periodontal practice, laser technology is utilized to provide more accurate procedures, as well as procedures that call for shorter and easier healing times. This can be particularly beneficial in a treatment like jawbone grafting, where we must carefully access the bone structure beneath your gums. Lasers also help us with gum grafting treatments, as well as with work to fight an active infection. To find out more, call our laser periodontal office in Encinitas/San Diego, CA, at (760) 642-0711.