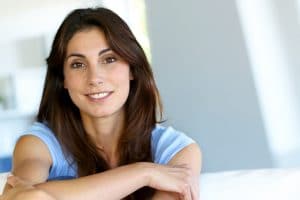 It is important that someone with periodontal disease understand just how serious their condition can be. When this infection is not being managed properly, a person's risk for tooth loss rises, and they become more vulnerable to other physical problems due to the potential spread of periodontal bacteria to other parts of the body. Our Encinitas/San Diego, CA periodontal practice offers modern treatment solutions for people who need to take on problems that affect their gum health. Because we use lasers when working with periodontal tissues, our patients can feel more comfortable during and after treatment, and they can have problems tackled while preserving more of their healthy gum tissues.
What To Expect After Treatment For Periodontal Disease
Periodontal disease leads to severe tissue damage, which makes a person more likely to lose teeth over time. Different treatments can control the spread of bacteria even when a person's periodontal disease is serious. One helpful procedure involves the removal of infected periodontal tissues – by performing this removal, your body can start growing healthy tissues to replace what you have lost. Thanks to laser technology, we can avoid damaging healthy tissues in the process of removing diseased areas, and we can work to ensure your time after work is done is more pleasant!
Lasers Can Minimize Bleeding And Prevent The Need For Suturing
With manual tools, procedures that require the manipulation of periodontal tissues, including jawbone grafting and gum grafting procedures, require sutures to close cuts from a scalpel. Laser treatments remove the need for suturing. Because these tools are more precise and do less damage, they also minimize any bleeding that occurs throughout their care. Treatments to restore your periodontal health have long-term advantages, but your experience after work is done is just one aspect of your care that deserves concern. Lasers can help make sure that you also have a better experience while you are being worked on.
Enjoy A Faster And Easier Recovery After Treatment
In addition to causing less bleeding and removing the need to place sutures, more precise work can be done with lasers. Ultimately, this can make it easier for a person to recover after work has been performed. In addition to making your time after treatment more pleasant, you can see cosmetic benefits from work that utilized lasers.
Arrange Laser Treatment At Your Encinitas/San Diego Periodontal Practice
Are you struggling with signs of poor periodontal health? Thanks to modern treatments and tools, it is possible to take on potentially serious issues with gum disease while minimizing discomfort and recovery times. At our Encinitas/San Diego, CA periodontal practice, we use lasers in many different services. By doing so, we can make the treatment itself easier, and we can also provide you with a more pleasant recovery period. For more information about Dr. Kania and our laser-based treatments, call our Encinitas/San Diego periodontal practice at (760) 642-0711.